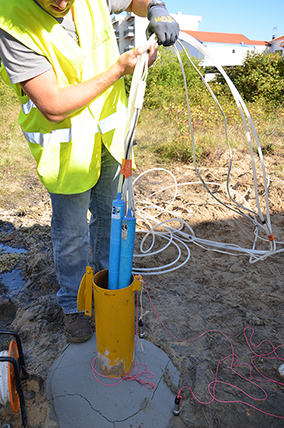 With 25 years of experience in the soil studies area, ALIOS Group has established a hydrogeology department to complete its skills and serve the growing demand.
The waterground consideration in management and construction projects became an essential factor for its success and for the normal working procedures. This type of expertise needs a perfect knowledge of the environmental context and current regulation, and also the knowledge of a particular discipline.
The hydrogeology skills proposed by ALIOS Group cover many intervention areas in different project development levels
• Expertise phase and environmental evaluation:
initial state analysis, historical and documentary study, issues and constraints definition
• Size phase and prescription establishment:
stormwater and wastewater management systems, waterground management, projects adjustments to the environmental constraints.
• Regulatory phase:
editing of regulatory files under the environmental code (water law, repercussion analysis, impact study) and contracting authority assistance for regulations monitoring and consideration.
• Work and operational phase:
establishment of waterground observation network, quantitative an qualitative monitoring water.